SUMMARY 

What is a nanoform? 
A nanoform is a sapphire disk in which your most important data are embedded at 1/30,000th of their original size and preserved for all time. Water, acid, age, scratches or fire will not deteriorate the information. 
Why do I need it? 
The nanoform guarantees you access to your vital documents for thousands of years. 
In a world where "new" is obsolete the minute you say it, you no longer depend on updates or software compatibility.
No data loss from scratches, water, light exposure or fire either.
The stunning Fahrenheit2451 nanoform preserves what's important to you: your family or wedding photos, your child's birth certificate, your love letters, your family tree or the history of your community… Keep them on a support that reflects their true value: a stylish sapphire disk.
Why should I invest this sum in the nanoform? 
Unlike hard drives or keys which must be replaced, you pay for your Fahrenheit 2451 once. And only once. Your disks are yours forever.

Actual prices are related to raw materials and the technology that allows your data to stay unaltered for thousands of years. Do you think the nanoform is pricey? Imagine what a cloud or any other storage solution would cost over centuries!
What use/s to make of it? 
Your personal nanoform comes in a see-through, shock-resistant case. Treat it as an heirloom and keep it in a safe. Or, display it anywhere in your home, hang it on the wall, set it on a shelf or in front of a window.
Be creative: wear your disk around your neck or as earrings! Someone close to you is getting married this year? Consider gifting a nanoform to engrave the wedding pictures.
What is the capacity of a nanoform? 
You can store up to 2500 pages 150dpi A4 in other words up to 2500 photographs of 620x870 pixels in a 100 mm nanoform.Note that the capacity of your nanoform depends on the resolution and the type of documents you selected to print. As the nanoform is an entirely customizable storage media, we would be happy to confirm you the exact capacity of your personal nanoform according to the number and the resolution of your files.
Is it possible to get back the datas from my nanoform?
Yes !
The advantage of nanoform - and making it superior to any software - is that the content will always be visible. Simply enlarge its contents with a magnifying system or a microscope. The digital microscope is available online for about € 100 with a USB connection to your computer.
You can also take a picture of your nanoform with a macro lens and retrieve the photo under digital file. We also propose a content visualization service in line like this: click here

How does it work? 
The Fahrenheit 2451 process shrinks your vital documents to 1/30,000th of their original surface. Next, it arranges them on a preparatory disk according to your preferences and engraves them on a thin sapphire wafer using high-precision photolithography technology. 

The operation takes place in a clean room, in CEA-Leti in Grenoble, so that nothing interferes with your data, not even a speck of dust.
The nano-images on the final disk are viewable anywhere, anytime. This high-tech object requires no technology to read, accessible with a simple magnifying system. For convenience, we also offer an online viewing platform where you can search a specific photo or text, display it on any digital screen or send it to a friend.

What do I have to do to get the nanoform?
For now, you can order a 2" or a 4" nanoform on our website .
Once you've purchased the nanoform, simply select the data you want to save. Drop them off to us in the safe platform Joomeo, and expect your package in the post!
Can you ship anywhere in the world?
We are happy to bring the nanoform in these countries : 
France
European Union
United States
Canada
Australia
Japan
South Korea
Malaysia
Singapore
Taiwan
India
Morocco
Brasilia
China
Switzerland
Norway
Israel
Russia
Turkey
New Zeland
For other countries, ask us using contact form
Can my nanoform's shape or size be personnalized?
Several nanoforms sizes are available: 25 mm, 50 mm or 100 mm or 200 mm for professional archiving.
The arrangement and composition of photos and documents on the nanoform depends on its size:
 25 mm: a single photo of 12 000 x 12 000 pixels max provided by the customer. All images and documents should be within a circle of 12 000 pixels max in diameter.
 50 mm: either a single photo 24 000 x 24 000 pixels max provided by the customer. All images and documents must be within in a circle of 24 000 pixels max in diameter. Or The layout is made automatically by Arnano with 500 photos or pages of documents provided by the customer max
 100 mm: the layout is automatically made by Arnano with 2500 photos or pages of documents max provided by the customer
Can I order more than one nanoform? 
You can order as many nanoforms as you wish. Think of them as gifts for your family and friends!

What are the steps to create a personalized nanoform?
Once you ordered your nanoform, you receive a link to your Joomeo account. You will get this link when this service is available.
Then, upload the files (text and picture) you want to put on your nanoform.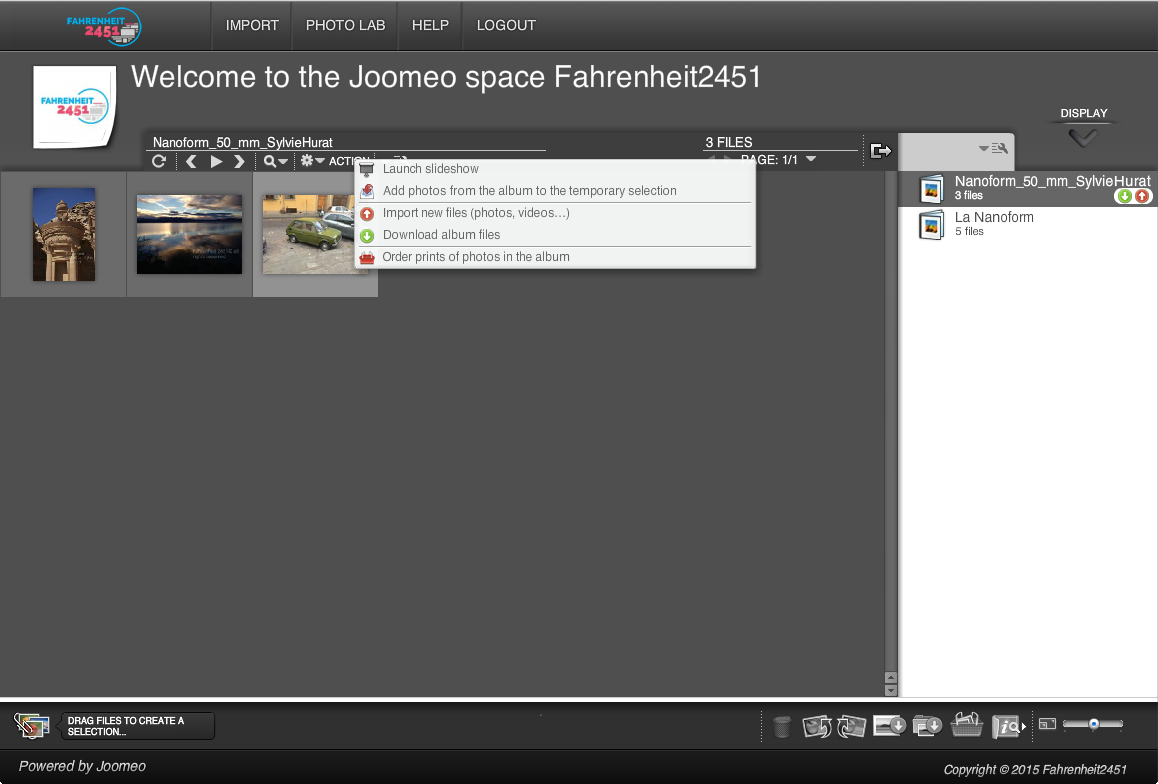 Is it possible to memorize color pictures?
Yes ! You have to decompose your picture in three different black and white pictures ; each one is made up of one of the primary color pixels (red, green, blue).
This is really easy to achieve with an image processing software (The Gimp for example) : simply insert the three pictures in your nanofom. 
You will get a color picture in your nanoform !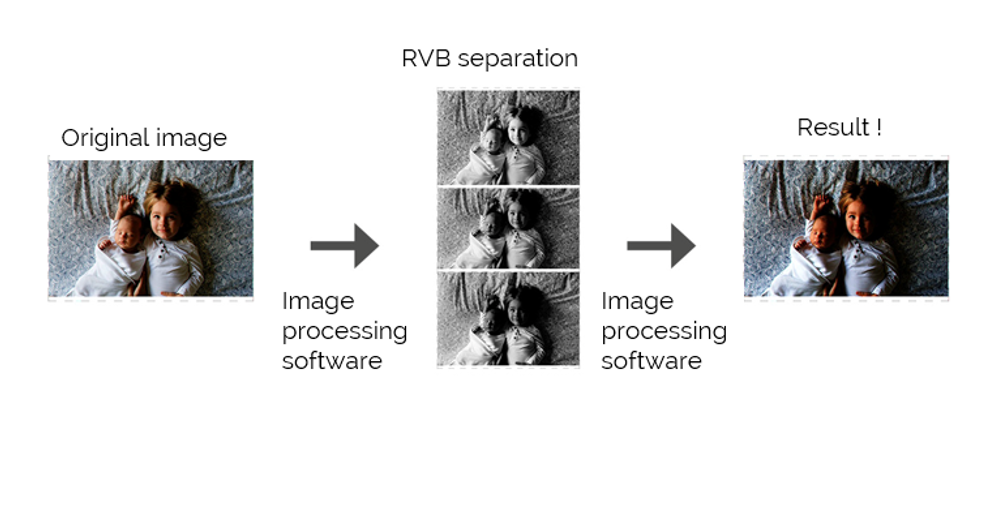 How to leave a message on La Nanoform?
You can invest on a picture on "La Nanoform" in our store, then you will receive a Joomeo link to prepare your message. This link will be sent as soon as possible. 
Then, upload the document/s (text and picture) you want to share on La Nanoform.

What does the nanoform really resist?
Nanoforms are made to resist to every damage of time. How is this possible? They have been expressly conceived to last and resist fire, water, acid, rodants, cold and heat- we mean LAVA heat. Imagine just for a second that your home is burned by a fire. Spine-tingling, isn't it? All your best memories would disappear... Not anymore once you'll have your own nanoform! 

Finally, you will find peace of mind as your most important data will remain unaltered whether your pet is playing with it, you misplace it and expose it to heat or cold, or it simply gets scratched. We base these affirmations on facts: besides all the numerous tests we made, our large nanoforms have been burried on the ocean floor (Greenpeace, 2013), and will soon be sent to the moon (Carnegie Mellon Moon Ark project, June 2015 : click here).  
However, please note that the nanoform has its loophole (at least for the moment): hammers. 
Where is my nanoform made?
All Fahrenheit2451 nanoforms are made in a worldwide prestigious tech place: a French Silicon Valley lab, located in the capital of French Alps: Grenoble. The entire manufacturing process takes place in a sterile environment (clean room) so that nothing interferes with your data, not even a speck of dust.
Your very personal nanoform will be shipped to you in a shock-resisting case.

Why is this called "Fahrenheit 2451"? 
Our project is conceptually linked to Ray Bradbury's book: Fahrenheit 451. Fahrenheit 451 is allegedly the temperature at which paper auto-ingnites. The classic novel's story presents an imaginary American society where books are outlawed and firemen are destroying any trace of culture and humanity that books represent. 

Passionate about offering you an alternative storage solution, able to last thousands of years, we conceived this nanoform to safe-keep all your precious data – even at 2451° Fahrenheit, LAVA's temperature.